Foundations of FBLA: 2023 SLC Competition
From learning public speaking skills to having the opportunity to voice one's opinions, FBLA provides it all. FBLA, also known as the Future Business Leaders of America, is a technical student organization which provides more opportunities for students wanting to pursue business or are seeking to improve their public speaking skills. In FBLA, the goal is to become a different, more confident person than one was prior to joining. A once timid, shy presenter now wins Internationals for a Public Speaking event. By competing for FBLA, students grasp exemplary speaking skills and become more fluent in business terms, which is knowledge worth lasting..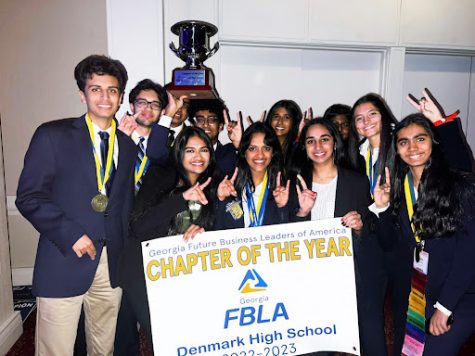 Srihitha Joginapally, the Executive Vice President of Denmark's FBLA chapter, speaks more on the competition based level of FBLA and its community. "Whenever anyone is struggling we are all there to help out and we make sure that there is transp
arency between the officers and members," Srihitha  accentuates the ideology of communication and all aspects of it. SLC, State Level Conference, is when members of FBLA compete against other schools, and win awards against Georgia as a holistic state. As FBLA members compete together, they find a sense of responsibility in what they do. SLC provides opportunities for the real, adult experience as teenagers. The struggles in the competition builds connections, which in turn provides a deep empathy and emotional bond between the officers and members. This bond unites Denmark's FBLA as a community, and develops  a sense of leadership as they take pride to represent Denmark High School. 
Additionally, Joginapally elaborates, "It is a great opportunity for members to gain recognition at the state level and gain valuable feedback from judges about their projects." FBLA provides students with the incentive to progress or appreciate their business skills. By achieving recognition at the state-level, students grasp a better individual skill asset in order to become more professional. This allows students to gain real-world life and work problems. "Students also have the opportunity to attend workshops hosted by business professionals so that they can build their skills in things like financial literacy, job interviews, and more," Srihitha Joginapolly further explains. Future Business Leaders of America allows for students to experience the essence of business, and all aspects of it. By presenting in front of judges and seeking evaluation from public speaking skills, students can prosper and gain a better advantage in the future with more proficient speaking skills.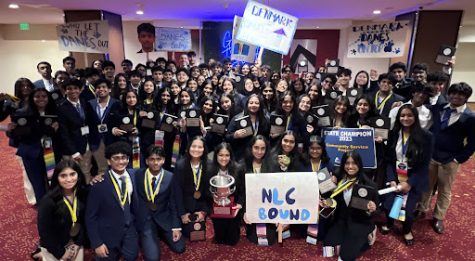 Additionally, the FBLA president, Shanmathi Gunasekaran, states, "Through leadership conferences, FBLA gives high school students the opportunity to professionally network with people from across the world. Competitive events allow students to prepare and present business pitches to professionals in the field." From carrying badges, paperwork, rubrics, and conferences with presentations to superiors, this allows for a deeper interaction outside of the four walls of a school classroom. By experiencing FBLA SLC, students understand how the corporate world establishes soft skills, and other beneficial skills that students can carry with them throughout whatever career field they choose. Not only that, but they gain a sense of responsibility and have a chance to roleplay as an adult. Students who have been treated like children get the opportunity to handle adult responsibilities, which is an amazing experience for highschoolers. This opportunity applies especially to highschoolers who want to join the corporate world. 
Regarding the State Leadership Conference, Shanmathi Gunsarakaran has won at SLC, as well as proceeded to Nationals for FBLA. Gunasekaran advises, "Personally, FBLA has provided me with three invaluable skills that I don't think I could have gained from any other organization: public speaking, leadership, and networking. These skills don't just come from a training session or a test, but they come purely from experience." Experience is a huge advantage for everyone, but especially for students who are upperclassmen. Continuing to participate in events such as conferences, students grasp more experience, and experience is exactly what sets apart students to prosper at national level conferences. Additionally, by preparing for FBLA prior, as well as practice if one is doing Public Speaking Events or testing, one can increase their chances of qualifying and being Nationals bound. Nationals provide an extraordinary opportunity for Denmark students, as it is a very impressive award and opportunity on resumes, college applications, and even just future work applications. This competition provides students with further opportunities depending on their chosen career, as well as displays their dedication towards their chosen path. FBLA unites these career oriented students, as well as provides a community for them to prosper in.
Future Business Leaders of America is an organization, but more importantly a foundation. This foundation is a strong household that represents the Denmark community. The school pride rushes through FBLA's organization, as well as its members. Make sure to cheer on FBLA's Chapter of the Year, Denmark High School, on their new embarking journey into National Level Competition!
Leave a Comment