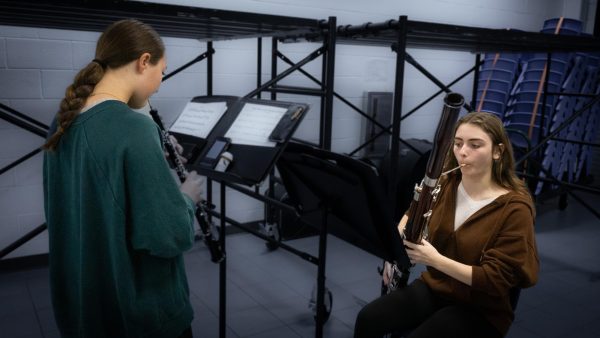 Deep breath in, deep breath out. Deep breath in, and play. In a synchronistic harmony, the talented musicians spew emotions from their hearts into sound waves that permeate the souls of all who hear. Any nerves that may be tumbling inside their stomachs are swiftly relieved as muscle memory from weeks of practice kicks in to make the music soar. The marching band unites as one body before the judges to bring home a win for Denmark. The month of October is crowded with band competitions nearly every weekend; some weeks even consist of multiple competitions and exhibitions. 
For the marching band, the month of pumpkins and ghosts takes on a whole new name: Bandtober. Instead of stereotypical Halloween traditions, these 31 days are dedicated to refining musical skills. A sophomore mentions that band director Ms. Poor frequently expresses to her students that every minute counts. They need to be in class on time and actively participate during practice to ensure their success. The constant gentle pressure to be better empowers students and challenges them to improve their own character. Ethan Jatikusuma, a dedicated marching band student, shares that "marching band allows [him] to learn many important life skills, including time management skills and to be more hardworking." Marching band is also extremely team oriented; the band fails if all of its members aren't performing as one. Jatikusuma explains that "during competitions, we must cooperate together to be the best we can be." Working towards a common goal in these critical teenage years teaches students how to improve their work ethic and cooperate with others so that they can flourish in the game of life.
Competitions are incredibly stressful and time consuming, but they are instrumental in strengthening the marching band. They are a time to prove one's skills while simultaneously learning from the best of the best. Many incredibly talented groups play at competitions, and they can aid in the growth of other bands. Jatikusuma comments that competitions "allow everyone to learn more from other bands and to be able to relate and communicate with other bands." Competitions allow many bands to gather in a common location and promote personal growth. Denmark's highly decorated marching band becomes a role model for aspiring musicians, but they also absorb different techniques and methods to cultivate even higher excellence in their own performances.
"Working towards a common goal in these critical teenage years teaches students how to improve their work ethic and cooperate with others so that they can flourish in the game of life."
Knowledge expands and bonds solidify at competitive events. The hours spent practicing, commuting, and competing add up, becoming apparent that band members spend weeks of their waking lives together. Though the jam packed schedule is difficult, it's also crucial to the bond weaved between the band members. The final performance will crash unless every single member participates; without a powerful alliance, it is incredibly hard for this joint effort to occur. A sophomore voices that, "it's a team effort, and it brings everyone close together in the end, especially because our whole life seems to revolve around the band and our practices during comp season." High school students pour hours of dedication into an all consuming display of incredible talent and hard work.
The Denmark High School marching band plays in 5 different competitions and exhibitions in the month of October. The first competition takes place on October 7 at Northgate High School. 
Next up is an exhibition on October 9. In this fast paced showcase, multiple bands get together to show off their skills.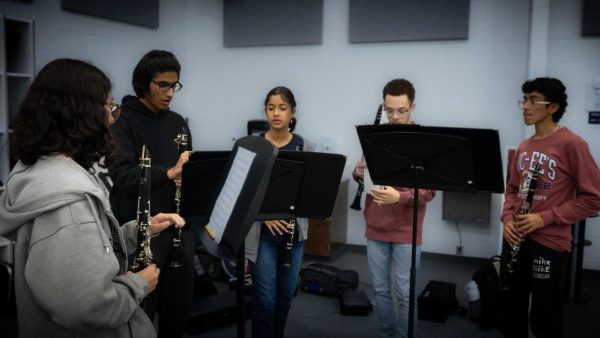 On one of the spookiest days of the year, what is arguably the most intense competition takes place. On Friday the 13th, the band hops on a bus and treks two and half hours to Western Carolina University. They will not arrive back home until 3:00 AM on Sunday morning. The general consensus is that this is both the most exciting and nerve wracking competition of the month. In Jatikusuma's opinion, this is "the biggest marching band competition [he's] going to participate in, and a lot of good bands are competing." This competition is the only state competition for the entire year, so the event is highly revered by all competitors.
After two weeks of recovery and preparations, the Danes are once again primed for playing. On October 28, they compete at South Forsyth High School.
Finally, in the last hurrah of competition season, they travel to Newnan High School on November 4. Technically, this competition doesn't take place in the month of October, but it is still part of Bandtober. The final event wraps a bow around weeks of immense dedication.
Bandtober is a busy season, but it is critical to the health of the band. It pushes students to achieve more, both individually and together. Strengthening connections is also a key part of the season; the strenuous competitions function as group targets to gather the tight knit family unit. The toughest road to travel is often the one that will have a lasting impact.