Denmark Dominates DECA State Competition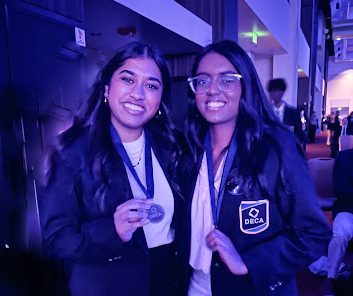 The sound of the mic echoes through people's ears; everyone is eager to hear the results. A sense of excitement and thrill rushes through the cluster of competitors. DECA is a competition-based club which promotes entrepreneurs in marketing, finance, and other economic careers. Throughout the club's competitions, communities are built. This community helps develop not only knowledge, but real life skills for its members. Their organization unites people in an academic, and emotional way as competitors unite together to represent Denmark. 
One of the club's officers, Daniel Ferrer, speaks more about his experience in the club. "I do feel like DECA is a community as we can all relate to the stress and nerves of competition which builds stronger relationships with each other," invokes Daniel Ferrer. The emotions the members feel as competitions near unite them as a community. He then elaborates on the connections made in this organization, and all the new friendships that flourished in the midst of competitions. Daniel explains, "I would say that through DECA I have been able to improve my public speaking skills, as well as gain experience in networking, as we meet many new people." Networking is a huge part of high school, and meeting new people can open new opportunities and connections. Friendships may sprout when least expected during state and international conferences.
 Furthermore, DECA allowed him to apply real life applications to finance and business. The new topics and knowledge he gained over his past four years in this organization really helped him to stand where he is now. "The extensive planning that goes into every DECA event is a mix of the officers' hard work and the advisors keeping us organized as they set our chapter," he expresses. From learning new skills on finance and business, to building a strong foundation of friends and connections, this club demonstrates their role as an organization that extends beyond competition. It is a community.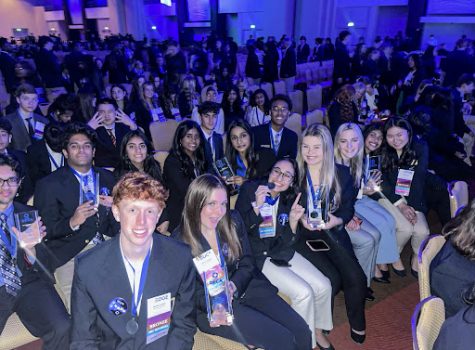 Parnika Tanguluru is preparing for competition at SLC. She mentions, "The competition is really challenging, but I know everyone is going to do great, and I know everyone is going to have a great time." She also mentions the excitement and thrill of these new chapter competitions, as it's her first year in this organization. "DECA's competition helps me become more confident in myself, and allows me to apply knowledge that I know into my event."
 She feels part of a new chapter, a new community which builds excitement over the next three years. The feeling of competing at SLC is riveting, and allows even underclassmen to make early connections and gain an advantage. SLC is a state-wide competition in Atlanta that determines who gets to move on and compete at the international level.  This builds the foundation of DECA itself and its members, as they form a clique.
As the sixth largest chapter in Georgia, DECA entrenches itself into a community of aspiring marketing leaders in Denmark High School.
Overall, this association prides itself on its community, advisors, and academic connections. This marketing club demonstrates the passion and skill for their competitions which benefits Denmark's school as a whole. As the sixth largest chapter in Georgia, DECA entrenches itself into a community of aspiring marketing leaders in Denmark High School. Like a house has a foundation, this group's foundation is its advisors and members, which builds into achievements and something much greater: a family.
Leave a Comment