As It All Comes Rushing Back…
Delving into the effects of COVID-19 on students' mindsets and goals as school begins.
Since the emergence of Covid-19, people have asked the question: How can there be learning without sickness? During 2020, there were mask wearers and virtual learners, until the development of a gracious and long-awaited vaccine against the nasty Coronavirus. Thankfully, because of this improvement, most students are returning to school and retrieving a semblance of their former lives, pre-pandemic. Now, the question is: How have students and their lives changed because of the previous tumultuous year?
Tatum Powell, a junior at Denmark High School, is one of the students who braved in-person learning and put her education above all else. "I've always needed direct instruction to help me learn best, rather than online resources, and I knew I wouldn't perform well in my classes if I didn't do that for myself," said Powell. She didn't regret this decision because it allowed academic success. Plus, the sight of her friends' faces dispelled any fear she might have.
The struggles of 2020 brought what was important into Tatum's foreground. She didn't discover her specific destiny in life, but she produced this nugget of knowledge, "I'm not fully sure what I want to end up doing, but I do know that I want to get the best grades I can and get into a good school after I graduate." Although tough times occasionally made Tatum forget her ideals, she managed to make it through the worst. School is in swing again, full of people and life, the kind of bustle that motivates action. As a result of that, Tatum is able to participate in the lively antics of theatre, going into overdrive with extended hours in drama camp.
Another current junior at Denmark High School followed a completely different path than Tatum. Quinn Surette attended Forsyth Virtual School for the year 2020-21. She is immuno-compromised and desperate not to catch Coronavirus, so virtual was the way to go. Quinn admitted, "My last full year of school was eighth grade, so now I'm an 11th grader who feels like a 9th grader. It's kind of hard getting used to the fact that I'm gonna be a senior looking at colleges next year." But, she is vaccinated now and comfortable roaming the hallways of Denmark! Loneliness plagued her last year, but she wasn't subjected to the anxiety of vulnerability. Plus, they were able to see friends within a bubble, so it wasn't all bad.
Being a virtual student completely changed Quinn's perspective on life. She gained confidence, realizing that social judgements are shallow and fleeting. "I used to really care about what people thought of me, but after this past year without seeing all of those people at school who would judge me, none of those people matter. The only thing that matters is getting the grades you need for college," said Surette. According to her mother, Colleen, Quinn was able to hone her time management and organization during isolation. Goals were also reaffirmed in the Surette household. Before the pandemic, marketing and fashion were interests of Quinn, and Mrs. Surette told, "Quinn still wants to go to college for fashion marketing, and COVID helped her realize how much she likes this career option." They are now able to be actively involved with the marketing pathway at school and are on the path to attaining their dreams.
Both Tatum and Quinn are excited for experiences that they have previously been unable to attend, including school dances. Tatum gave a general cheer for school dances with, "I've only ever been to one school dance, minus the 8th grade formal, and I love going to school dances; they're always so fun and I'm glad I can finally do it again." Quinn was more specific, clarifying that she's raring to go to homecoming and eager to find out what prom is all about. She already brought her prom dress in anticipation of the occasion. Mrs. Surette spoke more broadly and with great enthusiasm, telling of her hopes for Quinn. "I want her to go to sports games, play in band concerts, and experience all that high school has to offer!" In this massive return to in-person congregation, there are opportunities for fun aplenty…along with the obvious benefits of being taught directly.
(Tatum's pronouns are she/her and Quinn's pronouns are she/they).
Leave a Comment
About the Writer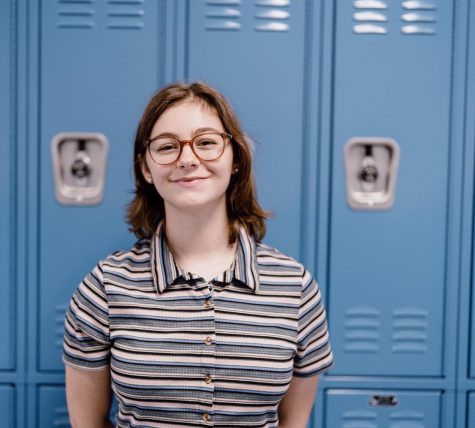 Bryn Quigley, Editor-in-Chief
How do you think the site looks? As you read this, I'm probably tinkering around with it, so say nice things. While awards and merit are important, my...