A claim of cultural importance rocked social media for six weeks as the nation wept, laughed, and argued about the Depp vs Heard trial. A new documentary on Netflix revisits the events by diving into the depths of the trial. Courtroom drama surrounding Johnny Depp suing Amber Heard for defamation captivates the public like never before; a rollercoaster of emotions, arguments, and counterarguments. Depp's case is the O.J Simpson case of the 90's. The public's fascination with these cases is due to their favorite celebrities facing legal battles. Simpson's case faced racial flaws of the system back in the 90's, while Depp's case faces power dynamics and abuse in the current generation. 27 long years have passed since Simpson's verdict, and people are still making podcasts and YouTube videos reporting on the case. Is there a possibility Depp's case is the next hit?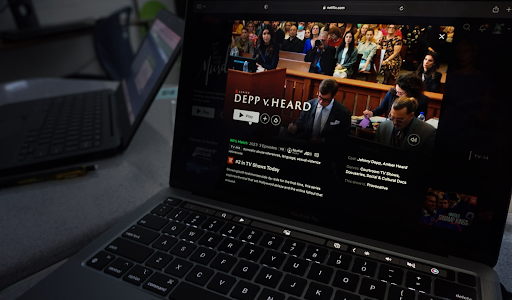 Max Buckman, an avid follower of the trial, shared his thoughts about the documentary. Max believes that this trial both helped and harmed both Depp and Heard's  careers. Though Max observed how "It was more beneficial for Depp though. More people took Depp's side due to his celebrity status and big accusations. Amber however, was impacted very negatively. Amber got an insane amount of media backlash, starting a whole trend of internet hate for her." Even if both sides had hatred thrown at them, More fans took Johnny's side than Ambers. Johnny Depps accusations were heavy, with cancel culture being such a powerful thing nowadays and false accusations about such sensitive situations could end a celebrity's career in the blink of an eye.
This court case began in April of 2022, and continues to have people following what is going to happen next. This show made it to the #1 spot in "The Top Shows Today" shown on Netflix. For a show to be on the Top Ten, it has to have at least 54 million viewers. What roots people's strong investment in this? Someone who found themselves very drawn to this trial, Max said, "People are so interested in this trial because many incidents in a celebrity's life are televised and brought to the media." When a celebrity is involved in a legal battle, curiosity will spark in the public. With cancel culture becoming a massive issue in this generation, the public is sure to be monitoring their every move. These fans will either be criticizing  what they do or they'll be applauding.
"Amber got an insane amount of media backlash, starting a whole trend of internet hate for her"
This lawsuit covered sensitive subjects, sparking conversation about heavy allegations. Do societal issues portrayed in the trial, like domestic violence and psychological abuse, make the public more aware of movements like #MeToo?  Junior at Denmark High School, Catelyn Samuel, provides insight on this angle, "Since this trial was so largely televised and brought to the media, it raised awareness for many other victims of domestic abuse. Due to Johnny's celebrity status, it showed viewers that domestic abuse can happen to anyone no matter the gender and how they shouldn't be afraid to speak out." Johnny Depp broke the stereotype and showed that men can also be taken advantage of, and still be able to speak out without feeling embarrassed. The trial showed men all over the world that being a man doesn't automatically mean you can't be a victim.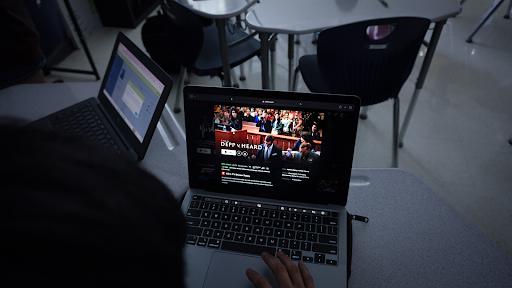 Social media app Twitter had fans tweeting about if the documentary was biased or not. Catelyn believes that "The show on Netflix is unbiased. It gives insight on both Johnny's side of the trial as well as Ambers." She further explains how there were positive and negative things said about both sides instead of just bashing one. An unbiased documentary was a well turned out choice because it accurately informs the public in an appealing way.  
As the public go along through intricate viewpoints and emotions, the people find themselves reflecting on how the private lives of Johnny Depp and Amber Heard meet public consumption. The Netflix hit left millions of people breaking each episode down with their own unique thoughts and reactions. This show provided factual information that was previously unknown. Is this obsession with courtroom drama a reflection of what morals our society has and what we find intriguing? Or is it just genuine curiosity?