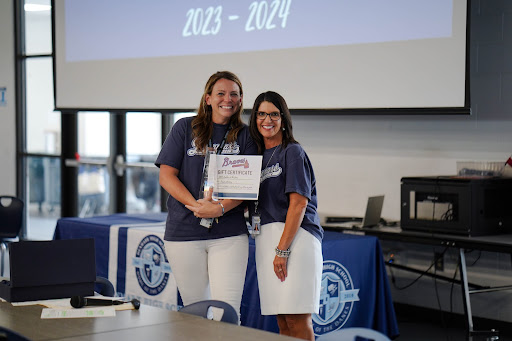 Teacher of the year is a fun interactive way for students to get together and decide on which teacher impacted their year the most. This year, students circled together and voted for Andrea Whitlock. She was also voted amongst her teacher peers. Mrs. Whitlock leads the teaching pathway for grades 9-12th here at Denmark High School. 
Mrs. Whitlock mentions, "My number one goal is relationships with my students. So I really strive to form that early and continue that throughout the year." She mentions how she starts with simple questions such as, "ice cream or cake" in order to get to know her students better and build communication.  
With her students, she shows patience and empathy towards all of them and is very understanding as to what they could be dealing with. Therefore, she strives to create a safe place for them to feel welcome and be who they are as she supports each and every one of them. 
Mrs. Whitlock has always loved the school environment. She loves seeing and spending time with her students to build connections. She expressed, "No two days are the same and everyday has challenges but it is just so fun. Sometimes I feel guilty for getting paid to have fun."