In a world where chaos is constant, there exists an extraordinary remedy which not many know of. In a society where anxiety and depression is at its all time high, Sculpting, painting, music and drawing hold the power of pain relief; the results are so dramatic that art is even being incorporated into medical settings. But it's more than just aesthetics. Art has allowed individuals to begin a journey of self discovery and recovery. Everyone has at least one thing or should have something that takes their mind off of stressors. People who have suffered from PTSD and different types of trauma have been able to gain freedom from pain with the help of art. Just the simple act of looking at art is therapeutic. It allows artists to express themselves in different ways, but you don't have to be an expert in creating something with brushes, paint or a voice. But how can art really help you?
Kimmy Wood, art teacher at Denmark High School shared an inspiring and eye opening story. After coming to America from South Korea when she was born to have open heart surgery, people around her communicated with her through art. Mrs. Wood explained that art is everywhere; art is "What we see, hear, and even what we wear." Being surrounded by art and learning how to communicate through it at a young age explains the value of art in her surroundings. Mrs. Wood shared that, "What's beautiful about art is artists pour their emotions, heart and mind, all onto a physical creation for other people to observe and say, "I see you." Mrs. Wood also stated that, "I wasn't really sure I was going to be an art teacher, but I knew it was a big avenue I was strong in." She enjoys teaching students how they can explore their artistic capabilities. Mrs. Wood gave insight about how she feels about teaching, "I thought about all the kids that are hurting and I really value the foundational aspect of inspiring kids." Every teenager is fighting their own battles; it's the age of trying to figure out who they are and who they want to be. Mrs. Wood finds art to be a very crucial academic class where kids can express themselves, in her words, "have that freedom that art can offer."
"What's beautiful about art is artists pour out their emotions, their heart and mind, all onto paper and put it as a physical thing for other people to say, I see you."
Mrs. Wood shared that when people face adversity, humans have an innate desire to create and rebuild. Her words were, "I think art is very beautiful and some of the most beautiful works you see are artworks people made while they were healing." She mentioned that after the bubonic plague came the renaissance: a period of revival and creativity. In dark periods humans seek to elevate themselves through creation, turning despair into hope. Mrs. Wood shared a moment when she surpassed a dark time with her artistic gift. Losing her mom and dad both within a year she felt lost. Kimmy described it as if she was "drowning in grief." It felt like she was an orphan again with the loss of both adoptive parents. Mrs. Wood created a painting showing someone screaming underwater to portray her emotions in a visual representation. She felt as though it filled the gaping hole within her. Many paintings Mrs. Wood makes relate to her personal life. Several of her paintings have hearts drawn or carved to represent how everything in her life ties into her heart. Whether it's her family that she holds close to her chest, or the difficulties herself and her dad went through because of having open heart surgery.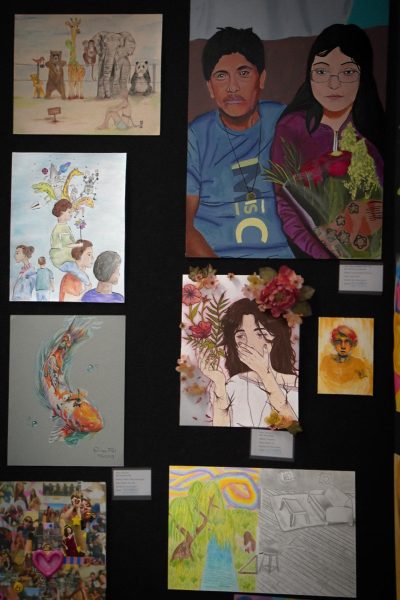 Catelyn junior at Denmark Highschool shared a different approach to how art can be therapeutic. Catelyn said, "Music is my escape and has been a way to get my mind off things when I was going through hard times." Music is a form of art because it expresses emotions and ideas through sound. Just like a painter uses their colors and strokes, musicians use their voice and instruments. With many different artists, genres, and rhythms, she mentioned how, "In whatever mood you're in, there's a song for it. Sometimes lyrics resonate with people so deeply, and that's why I think people have such deep connections with the artist." Music is beautiful from the instruments to the creative process of writing and the voice. Artists release emotions into their songs for therapeutic reasons and for other people to relate.
From cave markings to digital art, from Beethoven to Hans Zimmer, artwork has constantly helped the human race evolve by mirroring emotions and allowing them to share and communicate through the beauty of creativity and expression. The way that art has touched and changed so many lives throughout history has proven it to be more than just something to admire. Art offers solace and shows how creative and powerful the mind can be. Stories like these inspire those who are working through struggles and want to free themselves of their burdens.