A tolerable artist can write some music, a decent artist can have a concert, a quality artist can go on tour, and a talented artist can sell out a tour. But, only Taylor Swift can gross $1 billion from a tour spanning 146 shows, 20 months, and five continents. The tour's income easily impresses, but its true beauty lies within its impact on communities. Though the emotional impact of the show is prevalent, some fail to grasp its impact on the economy of the cities it visits. When Taylor Swift comes to town, Swifties, hotels, businesses, restaurants, and transportation workers rejoice.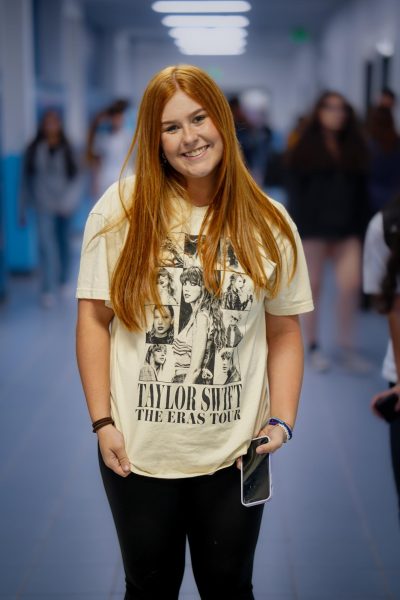 Emotions were high the evening the long awaited Eras concert began. From dedicated super fans to mediocre supporters, the electric excitement hovering in the crowd was tangible. On a warm April night just one month into the tour, Caitlyn Jeffrey finally got her chance to experience this one time wonderland. Jeffrey described the night as "sparkling." After hours spent partying, many felt empty and lost. Jeffrey explained that she had post concert depression and "sat in [her] room for two days not knowing what to do." Not only were people personally touched by Swift's performance, but it also changed the way they viewed her. Even high schoolers, who are stereotypically unappreciative, gained a better understanding of the work and effort put into Swift's music and business. Eras is larger than just singing some songs and strumming a guitar. 
The ripple effect of the concert in Atlanta is still felt by many, but none feel the waves greater than the restaurant, hotel, and transportation workers. For each night of the tour, thousands of people ate at restaurants, stayed at hotels, and rode in public transportation. Swift generated an economic boom which is unheard of in smaller cities. Atlanta is not a beach town and it is no New York City, but Swift's presence drastically impacted the state's economy. On the subject of Denmark's very own home city, Mahathi Yammada commented that "Atlanta isn't that much of a tourist destination, so to have the majority of their hotels at full occupancy that weekend is huge." The average attendee spent $1,300 per show on costs such as clothing, transportation, hotels, and food. In just the US alone Eras is projected to generate $5 billion in consumer spending. For comparison, that's larger than the economies of 50 countries. In just one weekend, local communities experienced boosts of hundreds of millions of dollars.
"There was a 30 year old sitting next to me, crying to the same songs as the teenagers behind us, all screaming the same songs as the 10 year olds in front of us."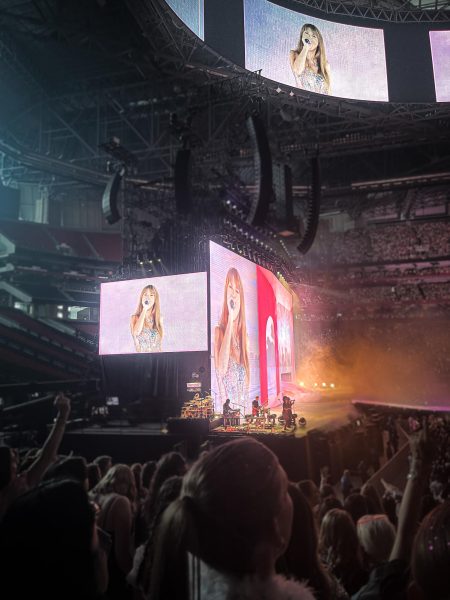 An unexpected impact no one could have anticipated were the supply chain shortages following the Eras tour. Fans scrambled to get hold of multicolored beads, letters, and string to create their very own friendship bracelets mentioned in Swift's musical masterpiece "You're on Your Own, Kid." The bracelets have become a phenomenon, and many Swifties attended the shows adorned in beads of all colors of the rainbow, lyrics from their favorite songs, and highly treasured album titles. They are a musical version of a trading card, symbolizing devotion to the almighty T. Swizzle.
Another show of fan dedication, which establishes Swift's stardom, is the extensive lines for merchandise. The merch truck has fans running rampant and waiting for up to 11 hours to purchase a t-shirt or hoodie. Prices are ranging from $45 all the way up to $75, and the viral blue crewneck, exclusive to the tour, has been going for $400 resale online. Swift's community is determined to don the pricey apparel to prove their loyalty to their idol. These dedicated fans have significantly bumped up the revenue from the Eras tour.
If there's one thing Taylor Swift knows how to do, it's to unite a crowd with passion and positivity. People from all walks of life dropped enormous amounts of cash and time to come out and support the mega artist who's had an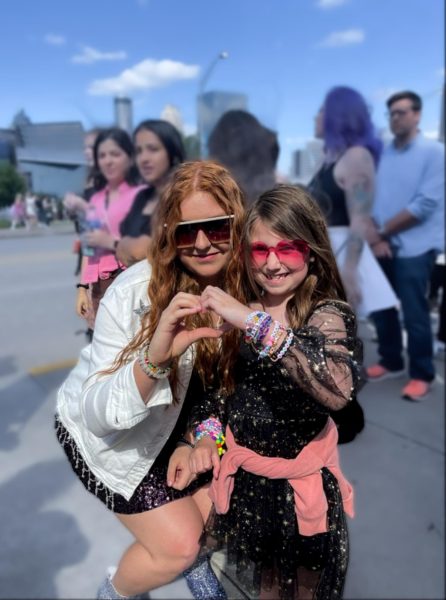 extraordinary impact on the music industry. The impressive part is that 91% of people said that if given the opportunity, they would go again. Jeffrey shared that this was due to "the vibe and energy she brought. The positivity there was something I couldn't describe." Unity plays a major role in the experience of the once in a lifetime concert. Yammada was most impressed by "how many people like her music, and the passion that comes with it. There was a 30 year old sitting next to me, crying to the same songs as the teenagers behind us, all screaming the same songs as the 10 year olds in front of us." Swift's music is universal, and it has touched the lives of millions. The legend of a woman has been releasing music that has inspired fans for 17 years, and she doesn't plan on stopping anytime soon.
https://www.washingtonexaminer.com/policy/economy/taylor-swift-highest-grossing-revenue-eras-tour
https://www.cbsnews.com/news/taylor-swift-eras-tour-boosted-economy-tourism-federal-reserve-how-much-money-made/
https://time.com/6307420/taylor-swift-eras-tour-money-economy/
https://www.elitedaily.com/lifestyle/taylor-swift-eras-tour-merch-truck-guide