Curtains Opened
The comedic musical mystery Curtains graced the stage at Denmark High School in the beginning of 2022. Following a lengthy, thorough practice process, the musical had a few performances scattered across the tail end of January. It was a fusion of rigorous preparation and study, the heart and soul of the theatre program, and the bonds between its members. 
The lead role of Lieutenant Frank Cioffi was played by senior Charlie Dougal. He transferred to this school just last year, but Dougal thinks that the performing arts members have transformed him into the actor he is today. "The main difference from my old programs is that, here, there's a layer of professionalism, people actually care about shows. Pretty much everywhere else I've gone, people are just doing it for fun or their parents have just made them do it, but, here, I feel like everyone has a genuine connection to what they're doing and who they're playing. They helped me meet an acting coach and they're such a strong community," said Dougal. He recently received an offer from the Royal Welsh College of Music and Drama, but even as such a strong actor, he was anxious about the upcoming show of Curtains, "On a scale of one to ten of nervousness, I'm probably like a 9.5. It's my first Shuler show." When calling it a Shuler show, he referred to the presence of a host of judges that would decide if Denmark's Curtains would receive a Shuler Award, hence the nickname. 
These awards are a recognition of brilliance in theatre productions, modelled after the Tony awards of Broadway. Denmark was honorably mentioned for 4 and nominated for 6 Shuler Awards last year, for their display of The Theory of Relativity. They are hoping to go even further and be a recipient in 2022.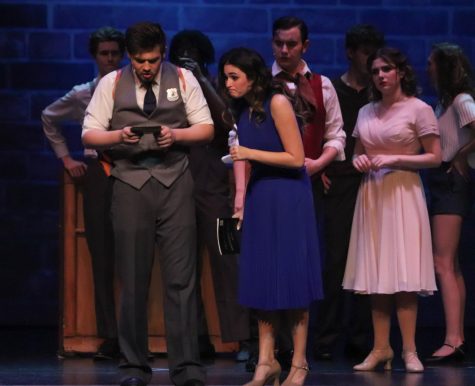 The Denmark nominee for leading actress of 2021, senior Juliet Wheeler, is again a cast member. This year, she plays a pivotal role again. In Curtains, Wheeler plays a lead role again as Niki Harris, who falls in love with the detective, played by Dougal. "It was amazing to be performing for the judges. It was definitely nerve-racking, but we had an audience of almost 400 people, which is the biggest we have ever had. We had such big reactions from the audience and we were told that the judges were laughing during the entirety of the show, which is so great," said Wheeler.
So, despite apprehension, the performing arts bunch was certainly aptly prepared for examination, and not just because critics were seen enjoying the show. According to Isabella Barbarena, a sophomore and member of the cast, "This is our first big dance show, so we had to do a lot of dancing and it was really difficult, but we've all grown as dancers and I think it looks pretty good. This program is as close as you'll get to Broadway. We're here every single day and we put everything in to make it better." Hopefully, since they are practicing at a Broadway level, the Shuler Awards experts will recognize the effort that was attributed by the members of the theatre program and a mock Tony will be received at Denmark High School.
After pouring out their passion, cast members ran backstage, crying tears of joy. They were so proud of their demonstration of hard work and dedication and it exploded in this moment after their most instrumental show. With their experience, they grew and are able to explore a future in theater. This was affirmed by senior Julia Wolff. Wolff told, "Performance-wise, it has made me grow so much, from the people to the coaches and the teachers, but as a genuine human being, I have matured and grown and had more fun with these people than I have in my entire life. I don't think there is another high school program in the world that could have prepared me more than this one. It prepares everyone for everything." They will remember their diligent practice and look back at Curtains with pride. It is a case of accomplishment, open and shut.
(The Shuler Awards will be presented on Thursday, April 21, 2022.)