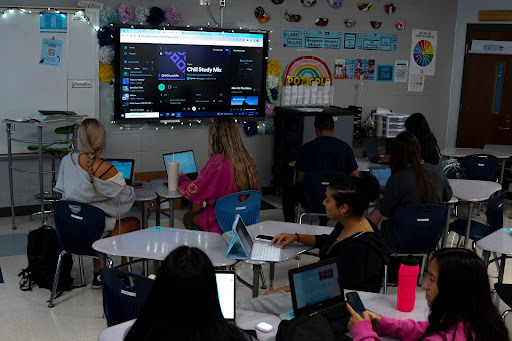 Music is a powerful tool that can be used to focus on tasks and overcome obstacles. It can unite communities, or cause mass destruction. Music helps a multitude of people focus on daily hobbies whether that be working out, cleaning your room, or even finishing school assignments. Teachers could also be affected by letting students listen to music; a number of them have differing opinions on letting students have the privilege of listening to their music, in fact some even go on to play music for their class. It's a common habit for most students to listen to music while working in class. Some utilize it to focus, and others don't, but how much can a song really affect the amount of focus students can put into their studies? 
Every teacher personalizes their environment; every class won't be taught the same way or behave the same. Listening to music can be a crucial part of a class's environment. If a class was being loud, a student could play music to tune them out and work on what they need to get done, alternatively it can also distract them. Though it doesn't have to be black and white, there can be some gray space. Teachers can enforce rules to make sure students don't listen to music while in the middle of a lecture or presentation. Ms. Jatko believes, "While teachers are giving instructions students shouldn't listen to music, but when they're doing work on their own that's when there's no issue." Listening to music to tune out distractions doesn't cause harm, but during the time teachers are speaking can cause consequences later on.
"If anyone is ever struggling academically they could simply turn on some music, relax, and let the rhythm do the work."
Teens believe that they deserve the privilege of listening to music. The majority of students on campus listen to music in the halls, cafeteria, classrooms — anywhere and anytime. Teens also agree that there is a difference in the amount of focus they put in when listening to music in class, but still believe there could be a middle ground. "Yes I believe that listening to music benefits me and other students because it helps focus," argued senior Adrianna Simmons. Students require a certain maturity to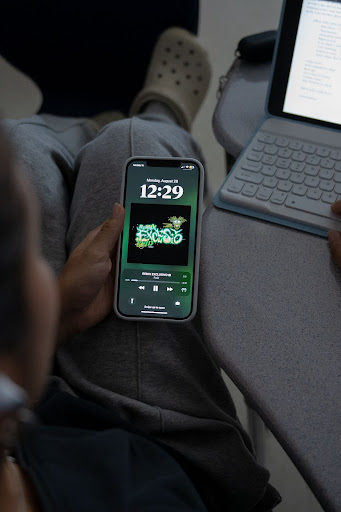 stop listening to music when instructed to do so. When a teacher is talking to the class, they could miss out on important information such as a due date or an upcoming summative. "While listening to music you might not be able to hear the instructions teachers are giving you to learn a concept but overall music does help a lot of students concentrate better" expressed Adrianna. All students have to do is know that there is a right time to listen to the music, when teachers won't have to worry about students diverting from their work.
Apart from blocking out noises, music can give teenagers motivation and energy needed to kickstart their work, putting in more genuine effort. In a poll of 2,000 people, from the New York Post, more young students studied while listening to music than students who didn't. The music listeners were more likely to have a GPA over 3.2. Statistically, music does benefit students when it comes to learning and focusing. If anyone is ever struggling to do a certain task they could simply turn on some music, relax, and let the rhythm do the work.
Steinberg, Brooke. "Students Who Listen to Music While Studying Have a Higher GPA: Poll." New York Post, New York Post, 18 Aug. 2022, nypost.com/2022/08/18/students-who-listen-to-music-while-studying-have-a-higher-gpa-poll/.