Painting Smiles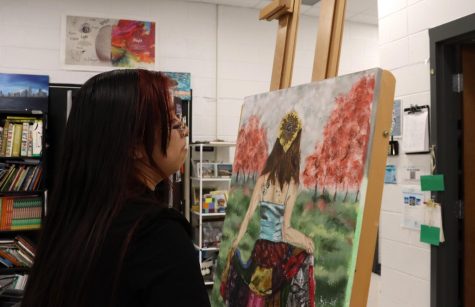 Colors. Electric, awakening colors send shivers like cold water on skin. Parents eager to attend their childrens' holiday concert slow their stride. Their eyes wander across every crevice of a kaleidoscope. Row after row of panels is embellished with the florid works of art students, contrasting the school's white interior. 
The showcase, led by Denmark's National Art Honor Society, had been in the works for quite some time. Its excitement was contagious throughout studios 1515 and 1519. Some students already knew they wanted to participate, scouring through their collections of finished works or ransacking supply closets to design new ones. Others, especially beginner students, were encouraged by teachers to put works into the show.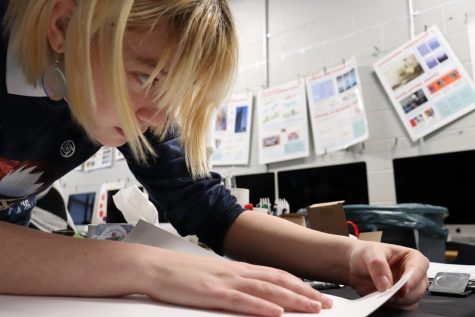 "This art show displays the variety of talent that we have in all of our art classes; from sculpture to visual arts I, II, and III, to AP art," says Lily Cody, an NAHS leader who helped coordinate the showcase. Her involvement with the Denmark art program has blossomed profoundly since joining, and she is devoted to plant new seeds during her final years. It's important to her that no artist goes unnoticed. Even if they can't be physically present, their treasures deserve attention. Cody encourages all artists to share their work, regardless of their level. "It gives you that mentality of 'I can show my art' and 'I can be proud of it,'" insists Cody. While it may seem like a simple task to hang up a painting or station a ceramic, the derived praise can build an artist's dignity.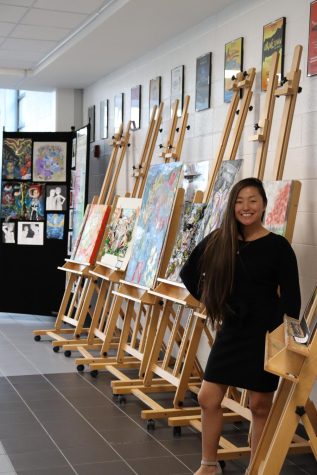 Hannah Shaw, another NAHS member who managed the event, is just as proud of the show as Cody. She is especially supportive of the artists, understanding the fear of having work on the pedestal. Oftentimes, artists are blinded by nearly invisible imperfections to see the good in their own work, and that brings them to feel insecure about sharing with others. She comments, "Artists are really hard on themselves when it comes to their own artwork, so when other people admire it, there's a realization of 'Oh, maybe it's better than I thought it was.'" When people see a piece for themselves, they experience the time and effort put into it. Any compliments received make that hard work feel worth it, and any sort of self-judgment dissipates.
Since day one, the National Art Honor Society at Denmark High School has aimed to heal through the arts. From a map tying cultures together, to orphan portraits which light children's faces with joy, NAHS goes beyond the canvas. Although this particular gallery wasn't a volunteer event, it did demonstrate the ability of both artists and onlookers to paint smiles, and that is just as rewarding. The club plans to host more pop-up shops throughout the year, so keep an eye out for their next prismatic display.
View Comments(1)