Newsies Seize the Stage
The overhead lights dim as a single luminescent beam glitters down onto  centerstage. Faint shadows of the towering set peek through the darkness, the room cloaked in silence. Then, the sound of hasty footsteps echo across the black wood floors. Emerging from the wings comes an exuberant newsboy carrying stacks of fresh papers against a ragged vest. He bathes in the spotlight just long enough for music to drown out the tranquility. 
For the first two weeks of December, the Denmark High School Theater opens its curtains with the hit broadway musical Newsies. The thrilling production is based on the 1992 Disney movie of the same name and tells the story of poverty-stricken newsboy, Jack Kelly, as he dreams of a life away from hardship. When the publisher raises newspaper prices to be nearly unprofitable, Jack leads his troop of newsies to go on strike for fair rates.
    From the morning bell until the hallways are vacant, Troupe 8720, Denmark's performing arts group, works relentlessly; Tech students responsible for set construction use their nimble fingers to measure, cut, drill, and paint. Others fine-tune sound equipment and adjust lights. Some craft costumes, stitching together an actor's entire identity. Dancers are quick on their feet as they run, leap, slide, and spin. Actors rehearse lines, harmonize and melodize. The entire frenzy is overseen by the theater teachers, Ms. Roney, Mrs. Miller, and Mr. Grizzle. 
    Newsies is unlike any show they've done before. While most shows tend to highlight lead roles and vocals, Newsies sheds light on Denmark's talented ensemble. Sophomore Thea Valencia is extremely fond of their work, voicing her pride, "I love the element of immersion that we have added to our show, not just for the audience, but for all the performers as well. Newsies emphasizes the fact that the ensemble isn't a background, but a part of the story." Typically, dancers are incorporated into shows as an extra detail to captivate the audience, sometimes even distracting from the interchanging of set pieces. However, the background dancers of Newsies are actually some of the key characters in the story; They are Jack's friends, and the effervescent choreography displays growing support for the strike. In certain scenes, the newsies frolic along newspapers dug into the ground or wave protest signs in the air. Their vivacious, acrobatic movements ignite power to the revolt.
    Though it's good to mention, sliding across newspapers is a lot easier than sliding into character. Valencia initially believed she wasn't suitable for her role of Les, a ten year old boy full of vim and vigor. She had to learn to put on a higher-pitched, childish voice. Her acting needed to be exaggerative, untamed. Despite this, she was determined to fulfill her role, remarking, "Producing this show required me and many others to step out of our comfort zones. My character in particular was unlike any roles I've played. However, my experiences in rehearsals have challenged me and allowed me to expand upon my skills."    
Troupe 8720 has bright prospects. The success of its last show, Curtains, brought a great reputation to the performing arts program at Denmark. They rang up various awards, with gifted actors even winning scholarships. It is expected that this year's show lineup will be even more triumphant, starting with Newsies. So buy your tickets and grab some snacks! Prepare to join the strike and seize the day!
View Comments(1)
About the Contributor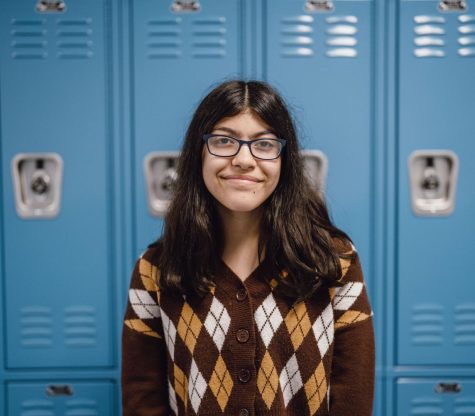 Natalie Colon, Staff
An older sister, a writer, and an artist. My mind is its own universe filled with stories I am eager to share, whether that be through written words or...