Closure on the Court
This year's volleyball season overflowed with personal and team achievements. Despite an unfortunate loss during the state playoffs, there are a lot of positives to take away from this season. In the face of elimination, the team's confidence, connection, and achievements were on display. Despite obstacles, such as a new coaching staff and injuries, the team was not discouraged. Volleyball's success displayed the perseverance and intense work of both the coaches and players.
Volleyball's sets, blocks, and kills are the direct product of confidence that the team has built throughout the season. Coach Garner describes the way she aids in the confidence of the girls, "I hope I make them feel confident in the way I address them and help them correct their mistakes." She expresses her player's worth and talents which boosts the volleyball girls up. Sport confidence directly corresponds with performance on the court, so Coach Garner makes her best effort to build a base for each athlete's confidence to grow and flourish. 
Dominae Jordan, a senior, shares her experience with building self-assurance, "When they push me to do better and hold me to a higher standard, I become more confident."  Jordan's confidence radiates during the volleyball matches. It has built a path for her to achieve 1500 career kills, be named region player of the year, and a position on the 1st all-region team. Collectively, the team accomplished many feats: 1194 kills, two honorable mentions, two 2nd team All-Region, and two 1st team All-Region.
 In addition to structured self-esteem, the team's connection supported volleyball's victories this season. In a short period of time, the girls have created an unmatched bond that contributes to the team's accomplishments. Dominae Jordan reflects on her and her teammates' connection, "We dance, sing, and have every inside joke in the world." Every set and pass was rooted in the deep trust these girls have in each other.  Coach Garner shares her view on building relationships, "We have peer mentor groups where the Varsity team helps mentor our JV team. The girls also go out to dinner before region play starts to relax and have fun." These girls are more than athletes on the same team, they are sisters who trust each other on and off the volleyball court. This is apparent through how much they enjoy spending time on and off the court. 
Along with individual achievements, the volleyball team qualified for state. Practices were fitted to which opponent they faced. The team's practices consisted of skill work, rotations, and comfortability. The team also devoted their time to watching films, this helped pick out specific styles of plays their opponents applied and how Denmark could counter them. Girls stepped into new roles and excelled at them. Coach Garner expresses her gratitude for a wonderful season "I'm very proud of everything we overcame this season." As the season comes to an end, the Denmark volleyball team's efforts do not go unnoticed. The girls look forward to  spending two hours each day, with the team that they love, to achieve a common goal: winning state.
Leave a Comment
About the Contributor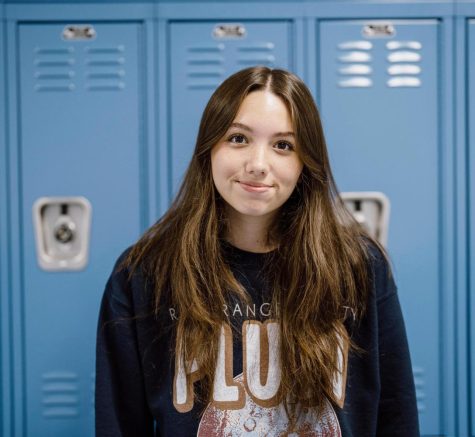 Miranda Meano, Staff
Ever since I can remember, sports have played a big role in my life. I'm a sophomore at Denmark High school, who loves being on the soccer field and...