Staying Up Until Midnight with Taylor Swift
The anticipation that builds before a music artist's release is similar to Christmas morning- although there are speculations about what you might receive, the joy of unwrapping each verse for the first time is the ultimate experience. From hearing song snippets to seeing photoshoots with a variety of auras, artists create excitement about their upcoming projects. Taylor Swift, one of the most notable musicians in the industry, prepared fans for her newest album with Midnights Mayhem, a series in which she teased upcoming features and song titles before its release. She released her 10th studio album, Midnights, on October 21st, followed by a deluxe version that featured seven additional songs. While the album is enjoyable to listen to, the unfiltered lyricism and transparent themes transcend the borders of space and time and connect Swifties worldwide.
Following her prime as a pop artist, Taylor altered her genre of music in 2020 with the releases of "Folklore" and "Evermore", which featured indie songs with meaningful messages. Midnights featured a variety of genres, including catchy, upbeat tracks. "The album was a callback to Taylor's roots with more upbeat pop songs," senior Nicole Stark states. A defining factor of Taylor's popularity is her lighthearted pop songs, such as "You Belong With Me" or "Shake It Off"- even non-fans seem to know the upbeat lyrics by heart. Midnights includes similar easygoing tunes, such as Anti-Hero with its distinct chorus or Karma with its confident feeling. Additionally, Nicole claimed the album was "a tribute to her current style with heavy lyricism and realistic themes."
Many of Taylor's lifelong fans were beyond satisfied with the project. Midnights tackles a variety of teenage experiences, one of which is the feeling of growing up. One song in particular, "You're On Your Own, Kid," encapsulates a common trouble that many high-school students tackle. "The song is super relatable," sophomore Hasini Chinthala stated. Nicole agreed, describing the song as a, "particular feeling of growing up and outgrowing the place you live in while going through personal struggles with love interests and body image." Taylor takes the trials and tribulations faced during adolescence and transforms them into artwork with her lyrics. Through similar encounters, fans can resonate emotionally with one another by relating to the music.
Swifties have built a tight-knit community revolving around their love for the artist. The connections are bonded through common experiences; Nicole claims that her work ranges from, "first heartbreak to insecurity." These universal themes are exemplified through delicate metaphors and allusions to other artworks, such as the infamous story of Romeo and Juliet in "Love Story," to represent falling in love. Additionally, Taylor works to unite her fanbase by building personal relationships with them. Hasini explains, "during the promotions for Midnights, Taylor put lyrics on billboards across the world." Through her inclusivity, "everyone felt like they were a part of the fandom. "
Although her 10-minute heartbreak songs may not resonate with everybody, it is the heart and purpose of Taylor Swift's music that causes fans to anticipate her further moves. Her music builds bridges among thousands of fans both literally and figuratively. Ranging from heart-wrenching verses to carefree lyrics, both fans and non-fans alike can unite to appreciate the power of music.
Leave a Comment
About the Writer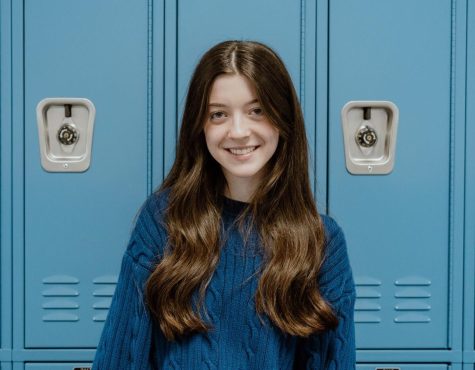 Katie Strickland, News Editor
Part-time student and full-time Swiftie. As a senior, I am ecstatic to collaborate with students and staff around the school as the section editor of News...