Dining Diversity: Cultural Foods at Denmark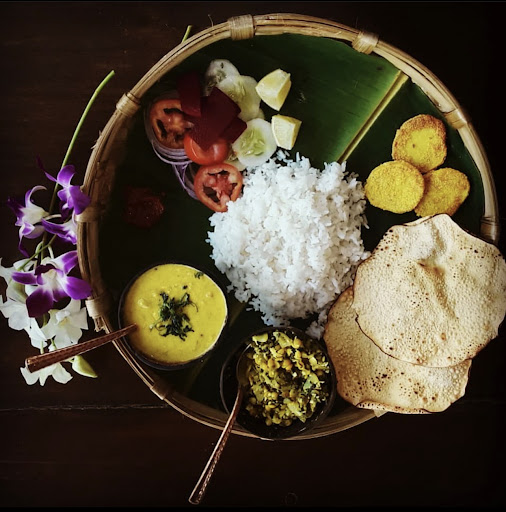 The mixture of different ethnic cultures from all around the world all packed up into a highschool campus is like a decadent, flavorful multi cuisine hot pot. With the different flavors from different cultures combined into one pot, it makes for a diverse and extraordinary dish. Denmark High School is one of the only schools in the county to have a minority majority. From this alone, one can tell that this has brought many minorities in the county together and unified as a family. People appreciate their individual cultures, and something that allows them to do this is through food. Throughout Denmark, people of all cultures bring different varieties of cultural foods to the plate. A walk through the cafeteria shows us just how many diverse food options the Denmark Danes have brought to school.
Siri Bhandia, a freshman, brought Idli and Sambar, a dish that she grew up eating with her mom who is South Indian." Idli is kind of like a rice cake," she explains, "and sambar is like a vegetable stew. It's more of a South Indian dish, and it's very tasty!" 
Idli and Sambar is a dish that Siri grew up with, as her mom is South Indian. Whenever she eats this dish, she reminisces of her childhood. The subtle, tart smell of the idli and the explosion of flavor of the sambar makes this dish truly incredible. To put them together is truly a harmonious duo.
Trisha Saxena had French Food in her lunchbox, "What I brought to lunch is called a Quiche, more specifically, a mini Quiche." she elaborates. "This is a French pastry filled with egg and spinach. It's creamy and soft, but with a flaky crust shell." she then describes. "I genuinely enjoy French food, and I personally think Quiches are amazing." 
Quiches are essentially like a French tart, except the fact it's more savory than sweet. The subtle crunch of the shell and the distinct taste of the egg filling has a very particular taste that many enjoy. French cuisine may seem out of place in an American highschool, but here at Denmark, people eat foods from all over the world! 
   "This sushi makes me sentimental." vocalized Simryn Darji. "As a child, my dad made me sushi on the weekends with a bright smile on his face. The sushi certainly wasn't scrumptious, but it was the thought that counted." 
   Sushi is such a versatile dish that connects with multiple students. For Simi, it connected her with her dad's cooking. While the salty seaweed stuck to the top of her mouth, it also had a crisp, addicting taste to it. The overcooked rice was balanced with the creamy avocado and roasted sesame seeds.  
   Diverse foods can connect people in different ways, whether it comes to personal memories, culture, or simply what we like to eat. The amazing thing about this is that people who's heritage comes from different backgrounds can interact with each other. The students on campus can learn new information and gain incite on cultural topics that they didn't know about before. This can also educate students on things that teachers might not teach in classrooms. People of the same culture might bond together as they feel a deep understanding of the way they were brought up and their ideals. Denmark has a diversification of people on campus, and we can evidently see this at the cafeteria. Not only that, but we can see it in the entire school.  Denmark's campus is filled with diversity, culture, and individual backgrounds when it comes to identity and food! While this school is one of the only in the county that has a minority major population, the campus is still unified as a big, global family.
Leave a Comment