Striving by Sprinting: Cross Country
Racing through the woods and over the hills, the outstanding Cross Country team demonstrates what it means to stay determined. This season they have shown sensational learning from their teammates and coaches' hard work. It's never simple to play a sport while focusing on academics at the same time because giving up time puts stress on the mind. Nonetheless, participating in a sport helps people clear their head. 
Cross Country gives athletes a sense of motivation, something to look forward to after school by competing in races together. Ethan Bridge, sophomore with 2 individual wins this season, says that, "It showed me I can run with some of the top upperclassmen and the top runners in state, and with me knowing I can manage this level of difficulty I was able to win 2 meets as an individual." Proving that having a push of support along with dedication can lead to unexpected wins and triumphs. When students start a sport they can often feel a type of inferiority to the athletes who have been on the team for longer, but once they realize that it's less of a competition and more of a community of learning, everyone benefits from it. 
Last season, Cross Country was overwhelmed with amazing achievements reached by powerful athletes. This year the team is keeping the same pace by trying to be the best; training takes an exhausting toll, proving to be mentally and physically taxing. But in the end it benefits the team's future excellence. Morgan Grace Sheffield, a junior, has been involved in Cross Country since her freshman year. She said,"Coach Hudson has taught us consistent training is the best training, and coming to practice with the mindset of doing the best I can that day and trusting it will all come together by the end of the season." With such a successful season last year, it could feel impossible to march on towards the goal. But it is obvious that the team and the coaching staff are focused on the process.  
Furthermore, competing in a sport can also lead to unforeseen circumstances, such as suffering an injury. Last season Morgan injured her leg and couldn't take part in the sport, but this year she has gotten back into Cross Country by using patience and support. She explained that, "Coming back this season, I've been trying not to compare my runs to previous seasons. I try to look at minor improvements in my training from workout to workout. Definitely a lot of patience and finding joy in the little improvements, and the team and coaches are super supportive so that always helps." For someone to come back to a sport after having an injury that affected their performance is an amazing accomplishment to feel proud of. The success of the team is based on the miniscule improvements each person can make. Having each person on the team contribute a part of their success can help it grow altogether. The compassion and assistance of their team allows them to never give up. The Cross Country family at Denmark High School is a team composed of caring athletes and amazing coaches, who show what it means to be a Dane.
Leave a Comment
About the Contributor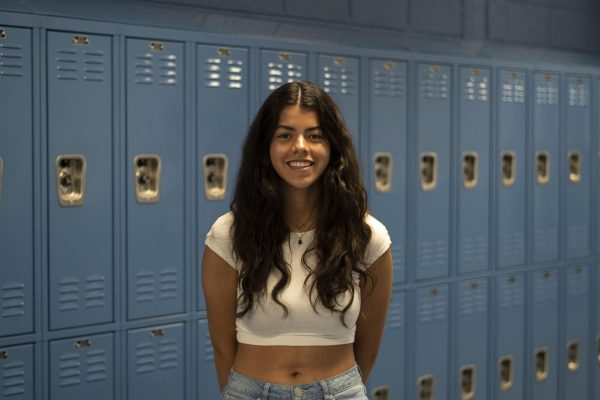 Camila Delgado, Student News Editor
It's always mind-blowing to think about the stories within every person. Each one has their own life, and we can only see the snapshot of it. I often...