Recent Luncheon Welcomes New Danes To The Pack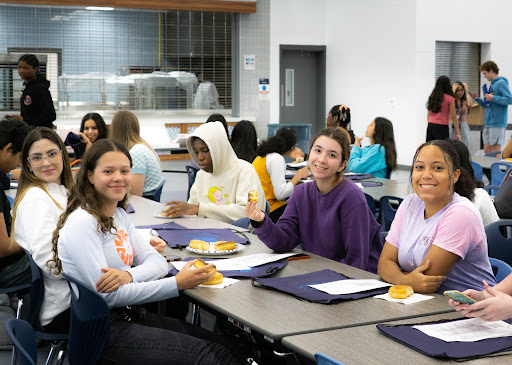 Starting at a new school can feel like being a sheep surrounded by a pack of wolves. An abundance of eyes glaring shrewd and gray, as the newcomer hides within its wool coat. With no one to talk to to ease the nerves, that first day can be quite overwhelming. However, staff at Denmark High School endeavor to lift some of this weight off student's shoulders by ensuring every pupil feels comfortable and well-prepared for school. This includes guiding incoming Danes through their journey.
On September 15th, administrators hosted an exclusive luncheon for new students in the cafeteria where they could meet the principal and their counselors, ask questions about the school, and make new friends. Along with that, everyone attending received complimentary merch from the Dane Den to flaunt their school spirit and delicious donuts to enjoy.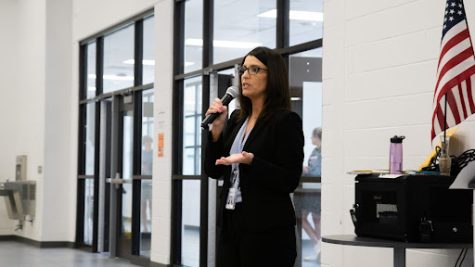 One of numerous students at the luncheon was freshman Caitlyn Jeffrey. Not only is Jeffrey a first-time highschooler, but she's also brand new to the district itself, making the transition all the more frightening. Initially from Fulton County, the freshman decided to switch schools after the previous environment wasn't suitable for her. With her father being a teacher at Denmark, it only made sense to try out his school. She remarks, "It was just better to start fresh at Denmark…Forsyth feels more free."
The move, of course, was not easy. Despite the failed connection to her old school, there were still parts of it that she treasured, such as her friends. Having to abandon everything she once knew in order to find where she truly belonged kindled a fire of emotions. Anxiety and discomfort, along with excitement and hopefulness. So much was happening all at once. She comments, "When I moved to Denmark it definitely felt overwhelming…I wondered if I had made the right choice, leaving my friends behind and all, but I settled in quickly." Fortunately for Jeffrey, all turned out well.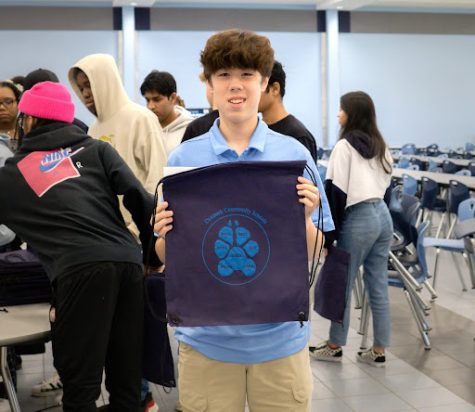 Within a month of being in school, Jeffrey was already stepping out of her shell. The last of her worries subsided when she attended the new student luncheon. Walking into the cafeteria, her eyes wandered about the room, scanning the faces of teens who were all on the same boat. Relief washed over her. She was no longer alone.
She sat down at a table and began to talk to others. According to Jeffrey, some of her newest friendships unfolded in that hour. By the end of the event, she felt like a proud dane."It feels rewarding," she states happily, "I don't want to say I earned a spot here, but it felt like I did in a way." After her efforts to find a school that was right for her, she is grateful that Denmark could fill the void. 
Whether the reason for change is good or bad, the feeling is scary nonetheless; but when the community comes together to greet everyone with open arms, those just beginning their journey feel secure. That little sheep, once stranded amongst a crowd of wolves, is now a part of the Dane pack.