Musical Merrymakers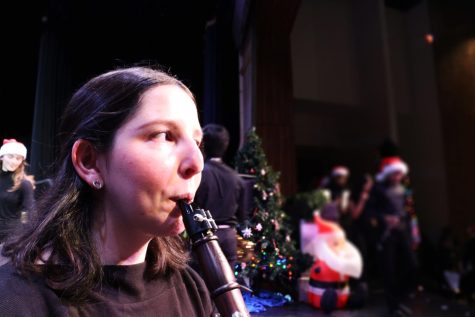 Searching the school after hours, locating the band concert was a breeze. With a door propped open, a melodious performance preview could be heard in every hallway. Members rushed in and out of the band room, frantically preparing for a holiday haven, with the items retrieved varying from reeds to reindeer antlers. Peeking in, an array of red and green lights decorated the curtains. A multitude of Christmas trees and a blow-up Santa adorned the theater floor. Festivity was palpable in the air.
As official entry began, students dashed to clear the stage and pranced to their seats. The atmosphere was warm and welcoming, graced with giggles and the shuffle of shoes as members motioned for their families to come say hello. Friends whispered softly and grandparents gave bear hugs, but a hush fell over the audience in perfect time with dimming lights as Ms. Poor took the stage.
After a brief introduction, the theater was swept up in the whirlwind that is color guard. Jolly red dresses fluttered as their choreography captured three Christmas classics: the Christmas Song, Underneath the Tree, and Carol of the Bells. To match the soft piano of the Christmas Song, their motions were flowy and fluid, but as Underneath the Tree began, flags flew into the air. "The flag was pretty fast to match the song, and was hard to do at first, but we pulled through," said Noelle Brown of color guard. Plus, Brown remembered that during practices, the rifles used in Carol of the Bells introduced a difficulty, but this wasn't displayed in their showcase. "I'm being honest when I say I think that was the best run we'd ever done of the show, and it was at the performance," she said earnestly.
Following the flags, symphonic band rocked the room. They played iconic pieces, including three of Vivaldi's Four Seasons. Unfortunately, the slightly sad themes triggered preemptive nostalgia for a percussionist. "I think it was pretty sad that it was my last one because I've been doing band since freshman year," said senior Anthony Musolino. After countless concerts and patient practices, he captured the cheer of his final concert in its entirety from the back of the stage. Perhaps it was sprinkled with wistfulness, but he said, "There was tons of Christmas spirit in that room."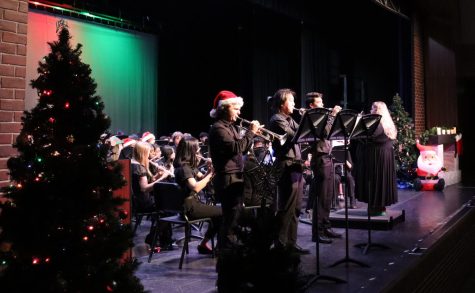 Another senior closed out his band experience, with not a bang, but a trumpet solo; a part in Bugler's Holiday, to be exact. Samuel Mesi collaborated with junior Kai Burdick and sophomore Nathan Pak to create the tribute. As the three reminisced about the hours spent perfecting their parts, Mesi joked, "Who are these people?" However, they worked together tirelessly to show superb skill. Burdick even admitted, "I prepared for this concert by practicing a lot, to where it hurts to pick it up." But, long before that they were immersed in music. The most experienced of the group, Mesi began playing trumpet in 3rd grade, and now has to say farewell- to his bandmates, at least.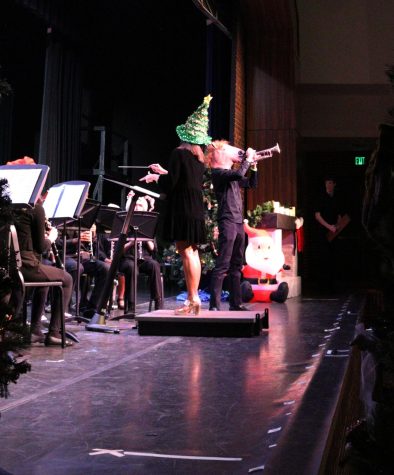 On the other end of a journey is Mrs. Oliver, who began her musical career as others' were wrapped up. When introduced to the band, she joked that the only instrument she'd played was the radio. However, after spending weeks of class conducting, Oliver was able to lead them in a performance of Sleigh Ride. Dotted with clapping boards and an appearance of a horse playing the trumpet, that iconic song was a fitting way to bring the concert, and a few band careers, to a close.
Leave a Comment
About the Contributor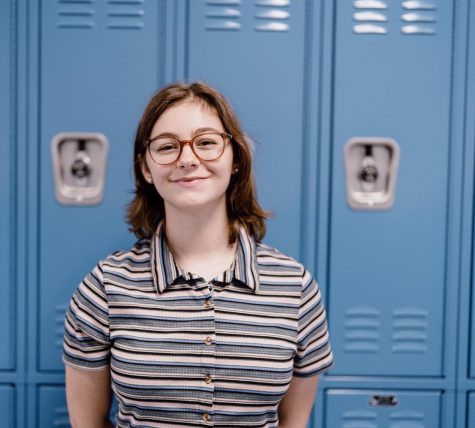 Bryn Quigley, Editor-in-Chief
How do you think the site looks? As you read this, I'm probably tinkering around with it, so say nice things. While awards and merit are important, my...