Dilligence in DECA
Established 75 years ago, DECA is a non-profit organization whose goal is to help students expand their knowledge in marketing. As Denmark High School already offers a variety of marketing classes, this club takes what students have learned and lets them use their knowledge outside of school.  Every year, the Distributive Education Clubs of America hold multiple challenges encouraging members to exhibit their ideas and talents. One of the current challenges members can sign up for is the "Ethical Leader Challenge," where students are tasked with having to film a short announcement about ethics and why having good morale is needed in today's world. This challenge is meant to test students' advertising and public speaking skills. This is only one of the many challenges DECA offers as there are many events to choose from.
At the moment, DECA has around 152,000 members and is available in 3,200 schools across the globe. DECA clubs can be found in Germany, the USA, Canada, Guam, and Puerto Rico. To help members participate in chapters and challenges, DECA has partnered with education and business organizations. These organizations help students develop skills needed for future careers and colleges such as improving their collaboration and critical thinking. The club also provides over $200,000 in scholarships and recognition awards to members who showed exceptional qualities during their time in DECA.
Along with everything else DECA has to offer, field trips are a big part of DECA at Denmark High School. These trips are organized to expose members to different career pathways, volunteering opportunities, and more. Freshman Vedika Valike, a recent member of the club commented, "Denmark's DECA offers a wide variety of options to experience and learn about the world around them. I was definitely more interested in the hands-on activities they offered, such as field trips and volunteer drives." 
    Not only are these outings educational, but they push students to interact and share ideas with one another. As DECA strives to create young leaders, many of their activities require teammates to learn how to communicate with each other. 
Allana Clark, the social media manager of DECA added, "Before DECA, I was definitely more introverted and kept to myself. DECA has definitely pushed me to become more outgoing, a skill that helps me even outside of school." 
DECA members helping out at the School's Trick or Trunk (October 2021).
Allana also explained how at Denmark High School, DECA's main focus is to help students prepare for their future. They do this through local fundraising events; one of the future events members can participate in will be helping kids at Midway Elementary with reading. As a club promoter, she hopes new members will think of DECA as a creative outlet to get involved with the school instead of another stress factor.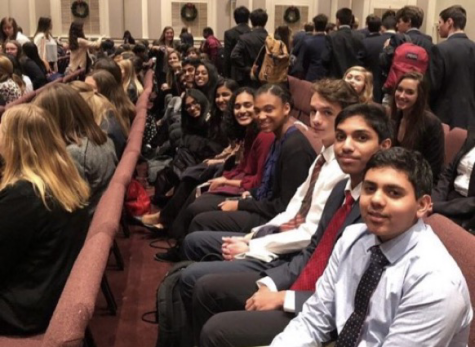 Denmark students participating in one of DECA's competitions (December 2018)
DECA is a great way to introduce students to the vast world of marketing through competitions and events. Their mission statement, "DECA prepares emerging leaders and entrepreneurs in marketing, finance, hospitality, and management in high schools and colleges around the globe," really comes into play when members come together to display their talents.
Want to learn even more about DECA? Visit https://www.deca.org/